Plantar Fasciitis, Bunion Treatments, & More in Chapin, SC
Happy feet enable happier, healthier living
Most of us won't get very far without healthy feet and ankles. Our feet and ankles host many of the body's most complex joints, making ailments equally difficult to identify and solve. Thankfully, the orthopedic specialists and surgeons at Palmetto Bone & Joint have a long history of successfully diagnosing and treating foot and ankle pain—no matter the cause. From chronic rheumatoid arthritis to gout flare-ups, we have the tools and training to offer patients in the Midlands and Upstate South Carolina regions the lasting relief they deserve. Take care of your foot and ankle pain so that your feet and ankles can take care of you. At Palmetto Bone & Joint, we keep South Carolina moving, one foot and one ankle at a time!
Request an Appointment
Fill out the form below to notify our staff of your intended visit.
"*" indicates required fields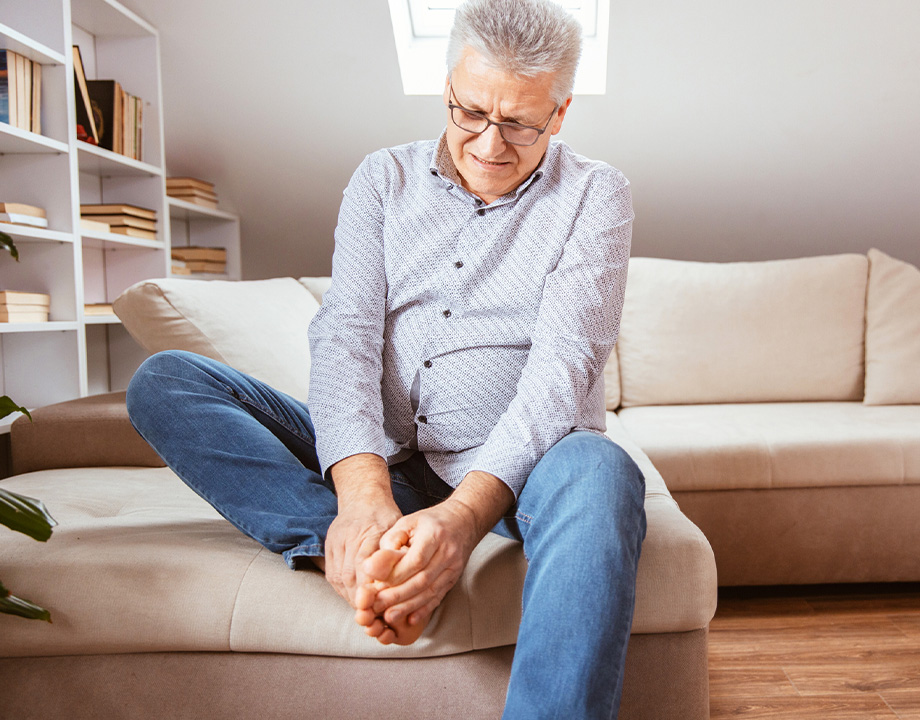 Diverse Treatments for Diverse Foot & Ankle Ailments
Designed by nature to achieve a stunning range of complex movements, your feet and ankles are nearly as intricate as clockwork. Like clocks, a number of issues can arise throughout these incredible joints, contributing to pain, deformity, or immobility. At Palmetto Bone & Joint, we've seen and treated nearly every common ailment, including fractures, flatfoot, bursitis, corns, gout, plantar fasciitis, bunions, claw toe, and hammer toe.
Active lifestyles take a toll on our feet, but there's a drastic difference between regular aches and dangerous pain. If you've noticed abnormal growth in your feet or toes, experienced discomfort when standing for more than a few minutes, or endured swelling that just won't go down, you could have a foot or ankle injury that requires diagnosis and treatment. Get the relief you deserve so that you can keep moving. Call Palmetto Bone & Joint today at (803) 941-8095 or contact us online!
Other Specialized Treatment Areas
Foot & Ankle Pain FAQs
---
The most unfortunate and noticeable symptom of plantar fasciitis is a sudden, stabbing pain in or around the ankle. In some patients, this pain can be especially pronounced in the morning hours, making it hard to tackle the day head-on. Swelling and tenderness caused by plantar fasciitis may also lead to a limp.
---
With several million cases cropping up each year, gout is a common form of arthritis caused by an abundance of uric acid in the bloodstream. This acid gathers in sharp, tiny crystals at the site of some joints, including the big toe, causing swelling, pain, and redness. Gout can be difficult to spot on your own since it goes through active and inactive periods. If you've noticed tenderness and swelling at your big toe joint, contact an orthopedic doctor for a professional diagnosis.
---
Athletes, everyday tennis players, and morning joggers may notice a tightness in their Achilles tendon from time to time. To keep your feet ready and able for the day's activity, consider this simple stretching exercise.
Stand facing a wall and flatten the affected foot as straight up as possible against the baseboards. Bracing yourself against the wall, move your torso toward it while keeping your foot planted. Hold this position for a few seconds (or as long as you comfortably can), then repeat. If your Achilles tendon pain still won't subside after a few days of stretching, you may have Achilles tendonitis.